Main Content
Welcome!
Here's the vision:
"Jesus-shaped churches, full of Jesus-shaped people,
making a Jesus-shaped difference"
2 EVENTS NOT TO BE MISSED!
Recognising & Resisting Empire in the Bible, the church and beyond (21-22 March)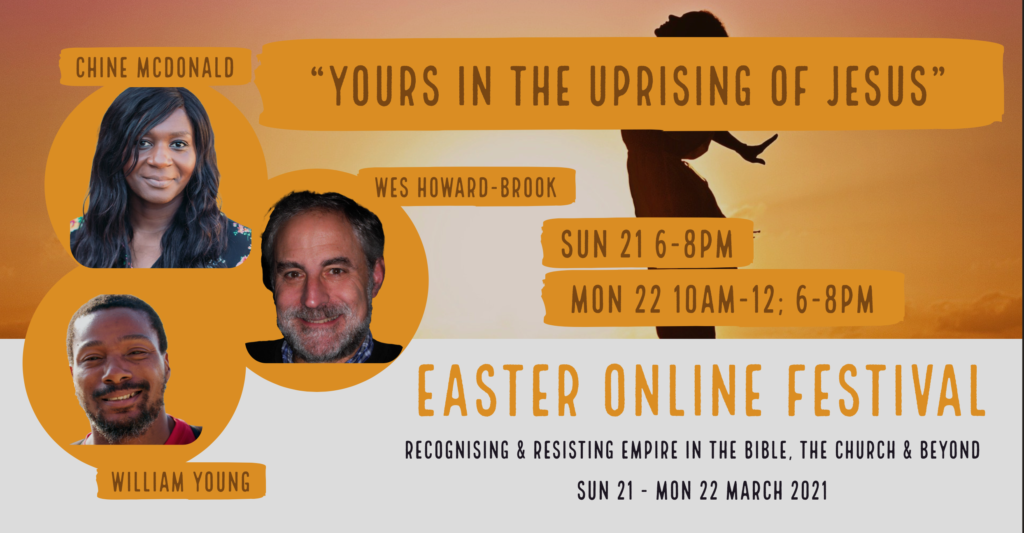 "The Uprising of Jesus" in an Easter context carries the dual sense of Jesus' revolution and his resurrection. Both have everything to do with Empire: Jesus is crucified as a terrorist because he resists the Roman Empire and its occupation in the name of God's reign. Jesus is raised because he refuses to make a deal with Empire, and astoundingly, the New Creation of the Reign of God is born on Easter Sunday. The risen Jesus calls us to walk that same Way of the Cross. Our Easter commitment is to recognise and resist Empire in all its forms today.
PROGRAMME
Sunday 21 March 6.30-8pm
Recognising & resisting Empire in the Bible and the Early Church Wes Howard-Brook
Monday 22 March 10-11am
Recognising & resisting White privilege Chine McDonald
11am-12pm
Resistance Music in Washington, Brazil and Palestine William Young
6.30-8pm
Recognising & resisting Empire in the church today Wes Howard-Brook
Which lives need to matter more than they do now? (Saturday 20 March, 11am)

Naming the Elephants in the Room" is the title of the theme talk for the Holiday Forum in a Day on Saturday 20 March. The question at issue is which lives need to matter more in our churches than they currently do.
I will be talking to Professor Anthony Reddie and Revd Dr Munther Isaac about the way our churches need to recognise and deal with the issues of white privilege here in the UK, and the situations faced by the Christian church in Israel, Palestine and the Occupied territories.
Anthony Reddie is the Director of the Oxford Centre for Religion & Culture. Two of his most influential books are Is God Colour-blind? and Theologising Brexit.</p
Full details of the day's programme can be found at here.  Sign up and join in the events that interest you!
You're in the right place …
* If you signed up to be part of a community that looks and behaves like Jesus
* Is part of the Good News it preaches
* Is impatient to see real transformation happen in lives and communities
* You want to "see Jesus more clearly, love him more dearly, and follow him more nearly"

join the tribe!
Sign up to receive the monthly Walking the Walk newsletter.
Your details will be held securely and used only to provide you with the materials you have requested. They will not be shared or sold, and will only be held as long as strictly nevessary.